Custom Shelters for
Specialized Applications


Return to AFC Home Page

| | |
| --- | --- |
| | |
| Shelter with antenna on top. | Tactical radome with transport shelter. |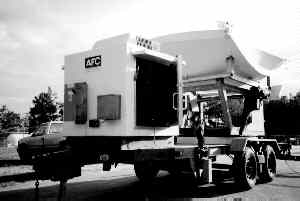 AFC manufactures custom shelters to solve a variety of needs. Typical examples are transportable uplinks and "quick-reaction" secure (TEMPEST quiet) airborne deliverable shelter modules. The shelter used by communications companies may be as modest as an air-conditioned half-rack uplink electronics module for a transportable antenna system, to major television station uplinks consisting of truck, transmitting antenna and environmentally controlled shelter. Secure shelters are customized to meet unique objectives and shipping dates and are often configured with environmental controls, appropriate electrical filtering, electronic racks, power distribution, backup power system and antennas. Often shelters encompass dual use roles. An example is the tactical system composed of environmentally controlled 8x8x20 foot shelter housing a 26 foot diameter radome ready for immediate deployment.

Table of Contents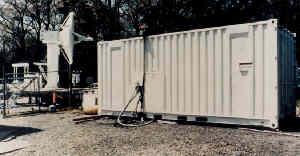 Transportable shelters can be manufactured from metal or fiberglass composite construction from a few feet in length to 40 feet. Average width and height of secure shelters are 8 feet. Shelters may be designed as modular units to permit individual or multiple configurations. Adaptable for operations in extreme environments, these shelters can provide shelter/radome electronic configurations, self-contained filtering for open or closed loop operation, protection from sand, dust, aerosol or gas contamination, backup power distribution, electrical and RFI filtering, adaptability for electronics or antenna installation, climate control systems, roof mounted pedestals or antenna assemblies and R14 insulation.


Table of Contents

Accessories and optional features may include TEMPEST design, personnel and equipment access doors, fire and smoke detectors, interior and exterior alarm systems, emergency lighting, anti static/fire retardant carpet or vinyl flooring, closed circuit television and C-130 flyaway modules.

AFC manufactures, markets and sells worldwide satellite dish antennas, conical horn antennas, radomes, antenna feeds, microwave and waveguide components, ultra low loss waveguide transmission line Tallguide ®, and shelters. Our customers serve the broadcast, communications, radar, weather and cable industry, defense, government, and government agencies worldwide.
A complete Internet WWW AFC site index may be found in Antennas for Communications (AFC) Home Page Document Summary List.

Top of Page    Return to AFC Profile    Return to AFC Home Page
    AFC Page Browser

Antennas for Communications
2499 SW 60th Ave, Ocala, FL 34474
Telephone (352) 687-4121 Fax (352) 687-1203 Email sales@afcsat.com

Tallguide is a Registered Trademark of Antennas for Communications Copyright © 1996 - 2001 Antennas for Communications